Beautifully restored stone barn conversions
Trewindsor Farm is located a short drive from the stunning coast of Wales, just 3 miles from the picturesque town of Cardigan.  No longer a working farm, Trewindsor is set in 56 acres of fields and ancient woodland falling down to the Arberth stream at the bottom of the valley. Perfect for nature-lovers, or those who simply want to unwind away from the hustle and bustle, you can walk from the front door, following paths through the woods awash with bluebells in the spring.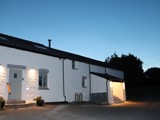 Some kind words from our guests...
"Thank you for the foresight, the love and the labour to transform old farm buildings into a serene nest in the beautiful Ceredigion countryside"
Meinir, Rhys and Helen (& Casi)
"What a delight to stay here, we feel pampered, invigorated and recharged all in one"
Genny, David and Milo the dog
"It's basically the most amazing hideout in absolute luxury away from the madding crowd!"
Claire, Ian and the whippets Alfred & Bill
The cottages
Trewindsor Cottages were created from the original cow-shed and grain store of Trewindsor Farm, during a major refurbishment in 2018. They have been designed to combine luxury with a contemporary touch, whilst retaining the atmosphere of each building.
The comfort of our guests is at the heart of what we do. We understand how precious time away is, knowing that you can relax from the moment you step through the door, so we remember all the little things so that you don't have to.
Each cottage has its own individual character, combined with its own unique luxury touches. Cwtch has a stunning stone-walled bathroom with deep free-standing bath perfect for relaxing in bubbles after adventuring, Plas has an extra shower downstairs perfect for doggie paws and sandy toes. Both cottages are perfect for four-legged friends, with natural stone floors and large, enclosed gardens with terraces and lawns.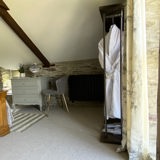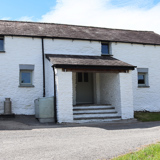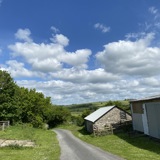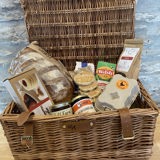 Dog friendly breaks
We really welcome four-legged friends at Trewindsor Cottages, knowing what an essential part of your holiday this is.  Every effort has been made to ensure that dogs have a safe, private garden to relax in, and we pop a few extra essentials and treats in the cottage for them. The local area is perfect for dogs, with plenty of dog-friendly beaches including the stunning Poppit Sands where they can run for miles. There is lots of choice for eating out taking your four-legged friend with you, but if you would like to try one which doesn't we will provide doggie-sitting if we can, feel free to ask before or during your stay.
What our four legged visitors said...
"The garden is perfect for our dog to run around in, and we loved the extra doggy touches-treats, water bowl and blanket... We are already planning on when we can come back!"
John, Rach and Simba
"We often travel with our dog, found this to be the most dog-friendly place we have stayed in. They have their own little treats in the welcome pack and even their own shower. The garden is safe so you can fully relax"
Katie
"Our dog has been in seventh heaven, with the beach and woodland walks… it is so wonderful to find a dog-friendly place that doesn't compromise on style and comfort"
Bobbi, Sammy and Jimmy the dog